1965 AMC Rambler Marlin
AMC Scene
Like most AMC products, the Rambler Marlin seems doomed forever to bear it's very own batch of wrong information attached to it.
The most common false saying told about the Marlin is that it was AMC's reaction to Ford's Mustang, and it seems to be extremely difficult for most automotive writers not to repeat this same misinformation over and over again. By the same logic, one should compare a '65 Malibu to the '65 Barracuda?
Rather, AMC's intermediate sized Rambler Classic/Marlin was made to compete with other intermediate sized cars such as Ford Fairlane/Mercury Comet, Chevrolet Chevelle/Malibu and Plymouth Belvedere/Dodge Coronet.
Ignoring what the parrots say, the '65 Marlin becomes the first intermediate sized fastback of the sixties, followed by the '66 Dodge Charger, then the '67 Ford Torino.
Maybe the next most common false saying is that the Marlin suffered from poor sales. Rather, it was a limited production model as AMC's first advertisements stated.
Then, in nearly every Marlin article there's a complaint about how the compact sized '64 Tarpon showcar design should have been made instead. But in the context of AMC history, their designers regularly displayed different size showcars only to release a similar styled production car in another size category. For example; '64 Tarpon then '65 Marlin, '69 (8?) AMX II (a Javelin station wagon) then '71 Sportabout, '69 AMX GT then '70 Gremlin, '70 AMX 3 then '74 Matador two door. This way the Tarpon translation into Marlin is more understandable, regardless of pre-existing worn out sayings -and- regardless of how AMC bunted the pitches of public opinion with their own reactionary propaganda.
Scroll your mouse over the words in the upper left corner for additional pages.
Marlin Drivetrain
Perhaps the best Marlin feature is the sturdy AMC inline 6 or Rambler V8 engine:

No doubt because of AMC's success with Jeep Corporation and the public becoming much endeared and familiar with those products, tons of good information is available for the legendary 7 main bearing AMC inline six; a 2bbl 232 I6 was the base engine for the Marlin that provides good street torque and about 23 mpg puttn' around town.

The Rambler V8 is largely unknown. This was AMC's first non-inline engine. At first glance it looks much like the Studebaker V8. Non-AMC enthusiasts typically want to call it a "big block", but the large size look is from the generous water jacketing for ensured cooling and durability. While AMC fudged it's weight to be 601lbs, the actual weight of the Rambler V8 is probably nearer to 640 when items such as the water pump, cam gears, rocker arm shafts and even the engine bolt set are honestly added to the weight of it's basic block components. The cast nodular iron block is a combination of Nash, Hudson and Kaiser engineering. There are three displacements; 250, 287 and 327 versions. Most Marlins came with the 270hp, 9.7 to 1 compression 4bbl 327.
The '65 Marlin had a optional overdrive transmission. The console mounted "Twin-Stick" can be shifted as a 5spd; from 1rst to 2nd, to 2nd+OD, to 3rd, to 3rd+OD. AMC did't degenerate down to a 2spd automatic in the '60s, but rather offered the Borg-Warner M8/10 3spd automatic with a modified valve body; select "D2"-the tranny is a 2spd, select "D1"-the tranny is a 3spd. Not so commonly known is a method for manually shifting the automatic; placing the selector in "L" for first gear will hold first with no upshift, waiting until engine rpms wind up high for maximum power, move the gear shift selector momentarily out of "L" and back again to find second gear with no upshift. This way, "L" serves to provide first and second with no upshift.
THERE IS MUCH CONFUSION concerning the Ramler Classic/Marlin AMC Torque Tube drive system; The neophyte immediately sees it to be crude and archaic, automatically thinking to replace the assembly with a more commonly known rear drive system. However, when the total void of good information is offset with actual information, the factory drive system tends to look much better. 1) The rigid torque tube itself acts as a very long ladder bar, reaching very near to the car's center of gravity. There may be variance among chassis tuners about the placement of a rear wheel drive car's 'reaction point' in relation to the same car's center of gravity, but until the car's center of gravity moves forward, all other movement is diverted into rotational forces around it, such as into the springs, shock dampers, suspension linkage arms and chassis flex. Hence one would be hard pressed to devise a better geometric relation for traction on a front engined rear drive chassis. 2) Under cornering load forces, the AMC Torque Tube system features no bump steer or sudden load shifting from mounting arm bind, as may be diagnosed by studying a conventional four link. The Rambler Classic/Marlin rear tires keep near perfect alignment in cornering, with very little side slop due to the Panhard bar attachment (as opposed to a horse and buggy type leaf spring/Hotchkiss axle). 3) It has historcal value for Nash Hudson AMC pioneering work done to isolate drive system and road vibration from the unibody chassis; there is only one link arm that connects to the unibody frame; the Panhard bar. 4) Historcal value for AMC pioneering use of heavy drivetrain components for crash protection; the AMC Torque Tube system forms a tough 't-bone' internal skeleton for the passenger compartment in the case of a severe rear impact, whereas AMC continuously held high safety standards even during historical times when safety was not a priority. (AMC cars were derided for having seat belts as standard equipment, the mockers muttering 'the car is built to crash')
Performance?
The Marlin pictured here was weighed at Sacramento Dragway; 3425 lbs. thus this car had in theory a power to weight ratio of 12.68 lbs. to every 1 hp, just a tad over the 12 to 1 standard for a "true musclecar". This car ran a best time of 16.43 @ 89 mph, having my poor reaction time at the tree, running it's tired un-rebuilt "floodwater special" stock 327 engine. (Argh; this time is faster than the magazines said the car would do back in '65! This car was in a catastrophic flood. The engine was full of water and mud. After some clean up, the engine ran decently so it was not immediately rebuilt!) The engine is now rebuilt with pocket ported heads, gasket matched intake and exhaust, 2.5" single exhaust w turbo muffler and ram air system.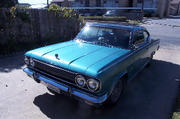 1965 AMC Rambler Marlin
The Rambler Marlin was an image change car for AMC, who the mainstream public was swayed to regard as a manufacturer of low tech, sluggish economy cars with dull unimaginative styling. The Marlin automobile idea draws from a variety of inspirations AMC was experiencing. AMC's Kelvinator appliance division enjoyed good success in the European market. Ever since the demise of the Nash Healey amidst the theatrical race track fireball crashes of several magnesium bodied gull wing Mercedes Benz sports cars, AMC's turn to "the only race we're interested in is the human race" advertising slogan had prevailed. This corporate personality fell out of favor after the paradoxical reintroduction of the '54/7 Nash Rambler as a slightly restyled, open wheel well compact model named Rambler American; with this car, made in '58/9 and '60, AMC outsold Chrysler during a mild economic depression. After that, the AMC line of cars may have seemed backward for clinging to economy and thrift as the sixties resumed with economic confidence. Moreover, at this time in US auto history, "the big three" began to follow AMC's lead by making all new compact and intermediate sized cars to complement their convention of full size cars only. (Corvette, Thunderbird exceptions) AMC needed some way to take up where it had left off with the Nash Healey. Alluding to their trans Atlantic enterprises; the success of the Nash Healey and Kelvinator, AMC chose the Marlin image, the fish itself suggesting sleek power and the trans Atlantic migratory route. In other words, the Marlin was to make a big splash for the return cycle of sporty cars from AMC.
Virtually no writers have given AMC the credit for their incredible artfullness to make an automobile that actually resembles it's name; the profile of the car models the profile of a fish! Any auto body worker knows what a "sail panel" is. A Marlin does not have a long bill like the Biblically "unclean" (no scales) Swordfish. The car version also features a "longitudinal line" plus other similarities, even the length of the car models the length of actual Marlins known to exist in the ocean. For context of comparison, an impalla is a small deer, a gazelle is a large deer, so why is the Chevelle a smaller car? This I say, assuming humans have a wonderful mental capacity.
Annoying to me, nearly all Marlin information makes no mention of the influence that Chryslers Turbine Program had on AMC. Three cars from AMC show they were bracing for Chrysler's full production turbine powered car; the '64/5 Rambler American, '64 Classic Typhoon and '65 Marlin. The American has syling cues similar to the '63 Turbine car. The Classic Typhoon seems to be an imitative memorial to it by featuring a black painted roof and taking the name of that Chrysler prototype. The Marlin has much similarity to the '56/7 Chrysler Norseman; another plausible member of Chrysler's turbine car program, but was Hemi V8 powered. (Chrysler's million dollar car that "floundered", sinking aboard the Andria Doria) Realizing this, one may find a whole alternative story surrounding the Marlin in US auto history; the story of alternative automotive engines, accepting the fact that the V8 engine design began as an alternative to the former tried and true inline eights. In this picture, only the Marlin remains prudent when it is displayed to fit in between the '48 Tucker, '56/7 Norseman, '66 Dodge Charger (was to be the full production turbine powered car) and the '67 Ford Torino/Mercury Cyclone and then Talledega (changes to Torino grille increases similarity to '65 Marlin). The idea behind the large displacement V8 engines coupled to two speed automatic transmissions during the sixties was to provide volumnous, seamless jet like power, not feeling a small engine wind itself up through many gear shifts. The chase was to have airplane technology charisma. The huge displacement V8's of sixties were alternative engines for this reason.
Marlin Territory
The Rambler Classic/Marlin was by comparison obviously targeted by AMC to compete with the Chevrolet Chevelle/Malibu, and yes of course, intermediate sized cars from the other manufacturers! Juxtaposed to Chevy intermediate, most of the styling cues are very similar. The base model Classic could be enhanced with a surprisingly full list of options from the factory and curious dealer installed items. The Classic was offered in all the conventional bodystyles; 2dr sedan/hdtp/convertible, 4dr and stationwagon models. However unlike the Malibu, AMC made a fastback version named Marlin. An El Camino/Ranchero version would seem out of place at a Rambler dealership. (The Marlin featured on this page was well optioned from the factory. Rather than reciting the whole list, maybe it's easier to say it does not have electric windows, "Vibratone" (power booster for radio), "Twin-Stick" or "Twin-Grip" differential, and it does have a few dealer accessories; "Rambler" tissue dispenser, locking gas cap and the famous Nash style seat rests that allow the standard reclining seats to fold all the way down to make a bed! )
'65/6 were pivotal years at GM for new big block engines from the various divisions. The greater bulk of the Rambler Marlin's competition, such as the GM intermediates, were equipped with similar displacements and power ratings, however AMC offered their three speed automatic or a five speed manual in contrast to GMC, FMC and CMC's arguably inferior transmission choices. Studebaker also offered an overdrive manual trans with their 289 V8. Where the power to weight ratio determines what is a muscle car, AMC's unibody chassis construction offers a lighter weight value opposed to conventional body on frame construction. For this reason, the '65 Rambler Marlin equipped with the Rambler 327 was rather a good match for most of it's competition, contrary to what most biased non-enthusiasts like to say
GM's 'Turbo-hydramatic' 3spd automatic was an all new option in '65, generally replacing the all cast iron non-torque converter 'Hydramatic', the non-torque converter two speed 'Slim Jim' automatic and supplanting the two speed Chevy 'Powerglide'.
Poor Sales?
"The Marlin suffered from poor sales" is simply parroted disinformation. AMC had a certain capacity to assemble what they called a "slow build" car. The '68-'70 Javelin/AMX parallels the Classic/Marlin marketing strategy; put one or two attention getter 'slow build" cars in every dealer to sell the more profitable full production models. (The production figures for the Classic/Marlin are nearly mirrored by the Javelin/AMX.) AMC issued dealer bulletins with instructions "How to sell Classics with the Marlin". In other words, the Marlin was a limited production sales tool, like the AMX.
Feel free to Email me at rktfbg@gmail.com