Cutaway View of V8 Engines
US V8 engine history at a glance
USA history of the V8 engine largely pivots around how 'alternative' engine designs were proven during WW2, effectually changing industrial and public opinion. The post-war V8 designs were a component part of automotive styling evolution, allowing a lower, more sleek hoodline.
When Nash and Hudson merged in '54, AMC then was able to make their own V8 engine two years later in '56.
These comparisons are made here to show off the excellent design of AMC's '56-'66 Rambler V8!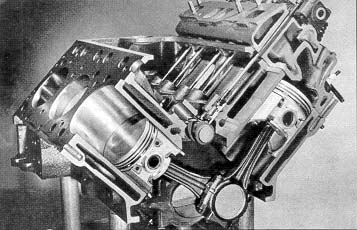 '49 Oldsmobile 288/303 "Rocket V8" - http://www.442.com/oldsfaq/ofe303.htm#E303%20303CIDEngineDetail -notice 'lifter' oil galleries have tiny 'bleeds' to lube lifters, notice integral clutch housing hanging off rear of engine...true thickwall casting, overbuilt cam support area...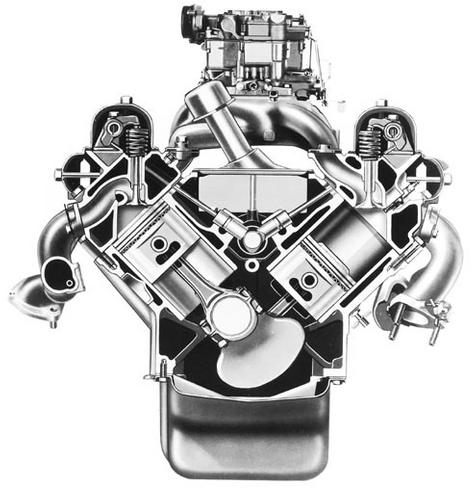 '53 264/322 Buick "Nailhead V8" 625 lbs. - http://www.buicks.net/shop/reference/blown_buick.html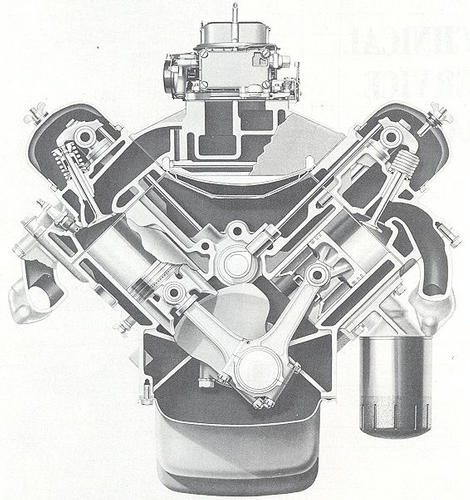 '56 250/327 AMC "Rambler V8" 601 lbs. Not a performance engine? -Obviously the design Ford copied for their legendary "FE" V8s. See also http://wps.com/AMC/Rambler-327/The%20New%20American%20Motors%20V-8%20Engine%20(SAE%20Paper%20details).htm NOTICE OBVIOUS LACK OF BS & IRON LARD they must have hired a teenage Chevy enthusiast to illustrate the open exhaust valve & spring...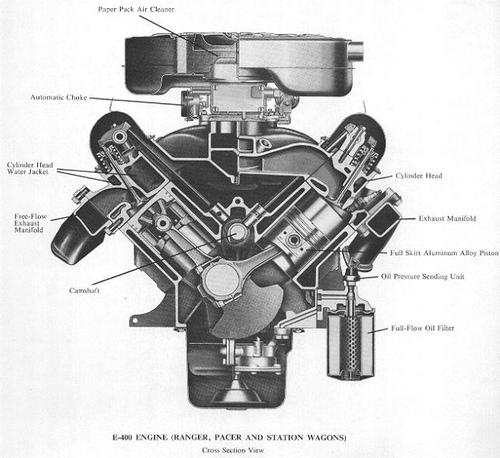 '58 332/390 Ford "FE V8" 650 lbs.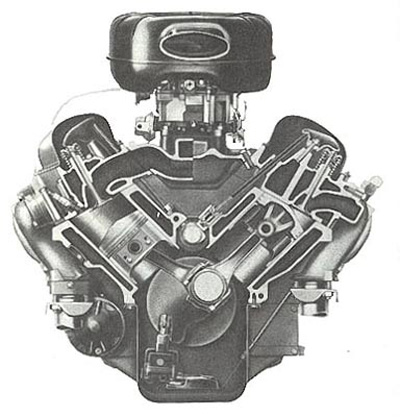 '58-'64 348-409 Chevrolet 'big block', credit to http://www.curbsideclassic.com/blog/the-w-348-engine-the-first-of-many-big-block-chevy-v8s/.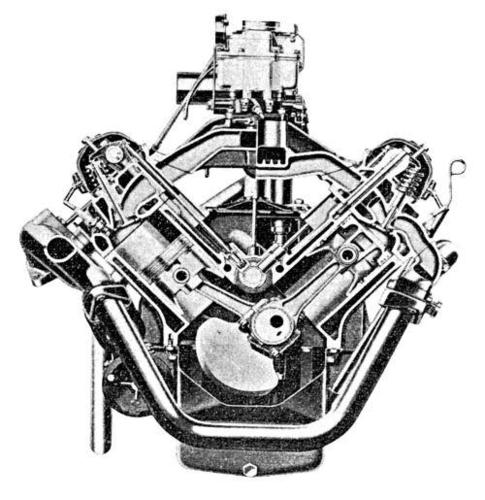 '49 Cadillac 330 V8; 699 lbs.courtesy of http://caddy500.com/index.php?topic=501.0 -engine has integral 8" deep '!/2 bell' transmission mount on rear... more than early Hemis...pre-'49 Cad flathead V8; http://www.classicandexotic.com/inventory/cadillac_engine/cadillac_engine.htm